Psst… Year of The Dragon – 7 things Quentin Tarantino taught me about creativity.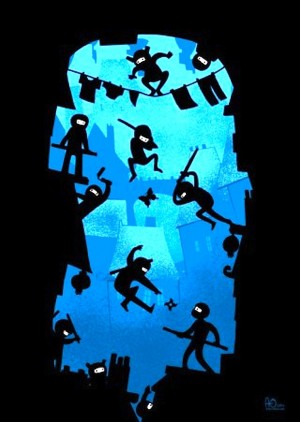 It's 2012 – the year the rubber hits the road. The year you finally get to achieve your dreams of success, before the Mayans return and ask for their ball back.
It's also the Year of the Dragon.
With time running out, how are you going to tame your inner dragon and achieve creative mastery? Are you going to fight like Bruce Lee or Uma Thurman?"
Before you answer that let's look at two possible scenarios.
Enter Beatrix Kiddo (Uma in Kill Bill) stage left…
Martin wakes up and declares "Things will be different this year." He reaches for his computer and starts THE DEFINITIVE LIST.  From now on he's going to think like a Ninja.
Oh yes.
He smiles as he starts to experience the download on his new life. First he will banish any thoughts that are not "all kick assy and shit". He knows all about the Law of Attraction.
"Set a clear intention and the world will beat a path to your door."
Next he starts to build the platform for his new life – after all, the universe will need some sort of landing strip on which to deliver his goods.
He writes a brief for a website re-design and fires it off to a brand consultant. He knows what he wants – something that clearly demonstrates the fact that he's a total badass. His fingers fly across the keyboard. He wants visual impact (people are time poor – they like pictures), buzz words (but like totally authentic man), and above all a new name – one that is a better representation of his Ninja status!
He pauses and curses his mother for calling him Martin. How on earth was he expected to succeed with such a lame name? He starts Googling Punk Rock heroes for something more suitable.
"Create your own reality."
Perhaps he could do a Don Draper and completely re-invent his past! Father an American scientist. Mother a Russian ballerina. Or no parents at all! Caught with false papers in Berlin and sent to a Gulag. Romance AND intrigue.
Special people were usually orphans – look at Harry Potter. And let's not forget Bruce Wayne didn't become Batman until his parents were murdered.
"Dream bigger" (or is that "Make the lie big enough!")
The creative muse is now doing double backflips in Martin's mind, demanding something… Caffeine!
He goes to the kitchen to make a triple espresso – two sugars. The detox can start tomorrow. No rush on that one. He knows that if he eliminates all carbs and drinks wheatgrass he can lose twelve pounds in a week.
He goes back to the computer and orders the One Hour Body and Six Pack in Six Minutes from Amazon.
That oughta do it.
Pleased with his achievements, he wanders over to the Games Console. If ever there was a day to get to the next level of Samurai Showdown this was it. He can already feel the delicious sensation of success.
Job done!
Scenario Two
Enter the Dragon stage right…
Julia wakes up and declares "things will be different this year." She reaches for her notebook and starts THE DEFINITIVE LIST.  From now on she's going to think like a Ninja.
She writes quickly.
"Get out of bed – early!!!"
(No matter how rubbish the weather or how bad the hangover.) And while we're at it…
"Quite drinking."
This is more realistic. (D'you think Bruce Lee could do those high kicks if he'd sank a bottle of Rioja the night before?)
"Write faster."
Julia pauses to think about her latest Blog post. It had taken two weeks to write and she still wasn't happy with it. She had to get quicker. Bruce Lee's reactions were so fast, his films had to be slowed down (otherwise viewers couldn't actually SEE the moves he was making.)
Hmmm.
She opens the laptop to Google the number of hours a day Bruce spent practicing his craft.
Oh my good God!
"Write more."
"Write while waiting for the bus; while waiting for the client to arrive; while waiting for the supermarket queue to shorten." Then she adds…
"Notice stuff."
Bruce Lee's peripheral vision was so cutting edge you could sharpen a samurai sword on it.
"Creators need content. And content is all around if we have the eyes to see it. Right now there are poignant interludes, angry exchanges and passionate glances. Everywhere there are heart stoppingly beautiful moments that we miss with our linear vision. Look out!"
Julia examines her list. It's missing one more thing. But she doesn't have the right word for it. She thought about "Discipline" but this just brought up memories of school. The memorising of times tables. Detention for late homework. Freezing to death on the hockey pitch. Instead she wrote…
"The Intel is inside."
That was better. Everything she needed was right here, right now. She just had to develop the practice of getting it out of her head and onto the page.
"I fear not the man who has practiced 10,000 kicks once, but I fear the man who has practiced one kick 10,000 times."   Bruce Lee
Bruce Lee was not born a genetically superior human being, in fact he was a frail child. He was just very, very determined.
Pleased with her achievements, Julia puts the list down, picks up the laptop…
And starts to write.
Which path will you choose – the personality of the Ninja or the soul of the Ninja?
Beatrix Kiddo achieved her goals with the aid of computer graphics, a blue screen and a yellow jumpsuit.
If we're travelling the creative road, technology is a great tool for the backpack. It isn't a substitute for the real thing. (Please tell Martin.)
And while we're at it, can we also have a reality check on the following New Age mantras…
The Law of Attraction. Positive Thinking. Clarity of Intention. Future Vision. Creative Dreaming.
Tools, all tools. Tools that need a skilled operator.
Quentin Tarantino is a skilled operator. He knows how to use the tools of his craft. But he knows that tools maketh not the movie.
Bruce Lee on the other hand, preceded both computer graphics and folksy new age wisdom. He still managed to kill the competition. But he did it with Mastery not Final Cut Pro.
Bruce will have a place in the history books as someone who transcended the limitations of what it is to be human while turning combat into an art form.
Beatrix Kiddo will have a place in the cartoon books as someone who looked unspeakably cool in someone else's creative dream. (Go Quentin!)
In the above scenario, Julia made the wiser choice. She may not have to chop wood and carry water. But she will have to obey the rules of the dojo…
1.  Get up. Both literally (get up as early as necessary every day) and metaphysically (get up when you've been knocked down with disappointment.)
2.  Fight addictions. Both literal (tequila, donuts, caramel macchiatos) and metaphysical (fantasy, complaining, internet surfing.)
3.  Get quicker. Everyone has too much to do on their To Do List. Spend less time list making, speed up the grunt work and you'll have way more time to spend on creative pursuits.
4.  Practise. We live in a passive world of more and more information yet the key to any creative endeavour is practise. Commit to less input and more output.
5.  Increase bandwidth. Creativity requires the synthesis and juxtaposition of random patterns, images and ideas. It makes sense that the more we can let in, the more we have to play with. Stretch your senses by seeing, hearing and sensing more.
6.  The intel is inside. Enough with the over consumption of workshops, seminars and courses. Quentin Tarantino never went to Film School, instead he watched movies. Before making Kill Bill he watched all Bruce Lee's films. It's important to learn the techniques of painting/writing/directing but it's equally important to be inspired by masters of the craft.
And finally
7.  Cross genres with impunity! This is a controversial one. In an over crowded marketplace we are advised to specialise. Niche Marketing! Own your subject! Describe your work, your style, your novel in one sentence, one word, one icon!! Ever since the meteoric success of Apple, we think we need to squish ourselves into a very small, beautifully designed box. With Kill Bill, Quentin Tarantino crossed Kung Fu with Spaghetti Western. (WTF right?)
In other words, once you have the discipline to follow rules, you can turn right round…
And break them all.
Personality of the Ninja or Soul of the Ninja? Looking good or Being real? The final word goes to Bruce.
"To me, martial arts means honestly expressing yourself. It is very difficult to do. It has always been very easy for me to put on a show and be cocky and feel pretty cool. I can show some really fancy movement. But to experience oneself honestly, not lying to oneself, and to express myself honestly, now that is very hard to do."
And if it's hard for Bruce, you must be in pretty good company!